2017 will be an important year for Pichi Richi Railway, Port Augusta and Quorn.
In 1912, work began on a new railway line between Port Augusta in South Australia and Kalgoorlie in Western Australia.
Stretching across 1693 kilometres of Australia's driest and most isolated terrain, the Trans-Australian Railway was completed on 17 October 1917, providing a link between the eastern states and Western Australia and helping to give the newly formed Commonwealth a sense of national unity.
It took five years for teams of rail workers to lay the 2.5 million hardwood sleepers and 140,000 tonnes of rail needed to finish the 1693-kilometre job. The last railway spike was hammered into place outside the tiny settlement of Ooldea in remote South Australia on 17 October 1917.
Five days later the first passenger train set off from Port Augusta, arriving at Kalgoorlie 42 hours and 48 minutes later.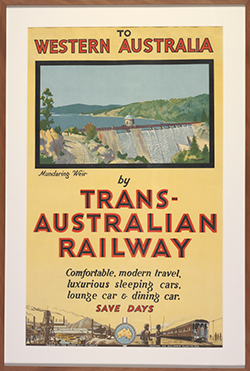 The Trans-Australian Railway line radically shortened travel and communication time. Mail delivery from Adelaide to Perth was cut by two days, and eastbound travellers who took the train arrived in Melbourne three days earlier than those making the journey by ship.